I know people will look at the title of this post and go "huh", "what", or even "well duh, where else do they go?" but that's not the case with some. I like leggings a lot, I like printed leggings, bedazzled,bright,glitter, I like leggings because I like comfort and warmth for the winter. The only bone I have to pick with legging wearers is the camel toe! I understand you want to put comfort first but at least put some kind of shress (shirt dress) or drirt(dress shirt) on over it, or don't buy the leggings that tight because if they show off camel toe just how comfortable are they? Leggings can be worn so cutely I've seen it like below are some of my favorite legging looks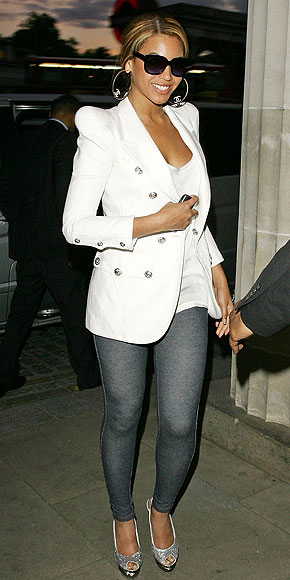 Wanna know why Bey is smiling because she's comfortable and doesn't have to worry about showing you bits of her anatomy.
Rihanna in print leggings takes away from any possible camel toe-age and they're fit more like pants not tights
Lauren Conrad in leather leggings worn as pants and not tights and the shirt offers coverage.



I hope you all understand I am very pro legging but I couldn't be more anti-camel toe so just watch the fit and acknowledge whether you need some coverage from time to time that's all I ask, please and thank you this was rant brought to you by www.deejayspeaks.blogspot.com.